Yuzu Ponzu ゆずポン
What to do with fresh yuzu fruits? Make this delicious Japanese dipping sauce called Yuzu Ponzu (Yuzu Pon)! The homemade version tastes so much better than the store-bought one and it's so easy to make a big bulk to enjoy later!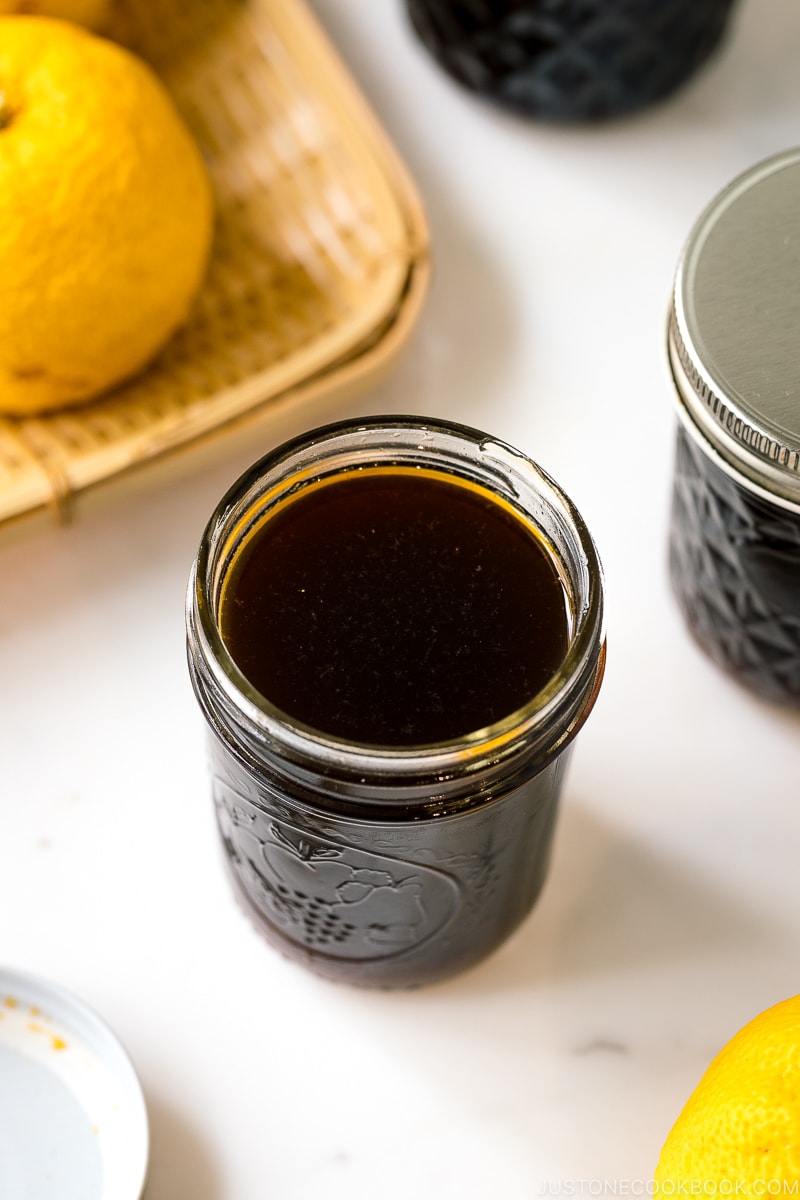 Yuzu is a popular citrus we enjoy during the winter months in Japan, and if you follow JOC long enough, you would know that I'm obsessed with the fruit. My friend even gifted me a grafted yuzu tree two years ago, and this is the first year my tree has bore us a fruit.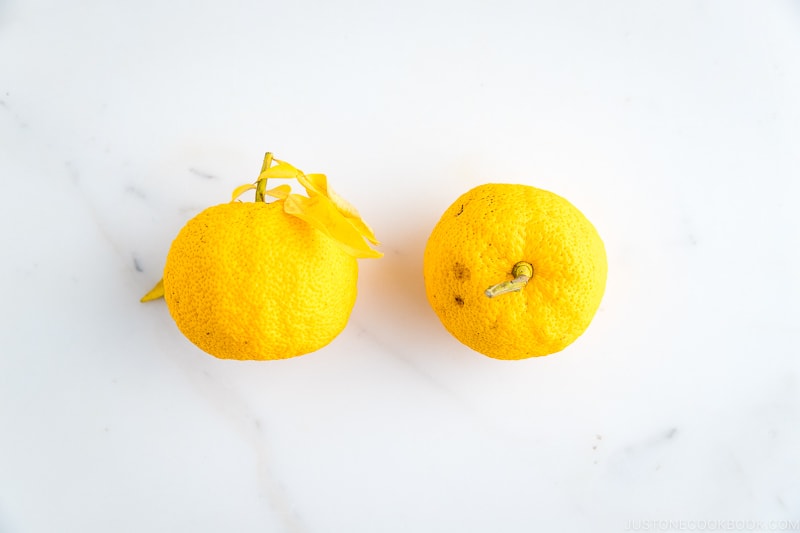 Unfortunately, one yuzu fruit is not quite enough to make a recipe out of it, but I was lucky to receive a bag of fresh yuzu from my friend! They are very special as she harvested in her backyard. The last time she gifted me a big load of yuzu, I made this Yuzu Marmalade recipe with them. This time, I decide to make Yuzu Ponzu or what we call Yuzu Pon (柚子ポン).
What is Yuzu Ponzu
Yuzu ponzu is a yuzu-flavored ponzu. Ponzu (ポン酢) is a Japanese citrus dipping sauce made of soy sauce and citrus juice.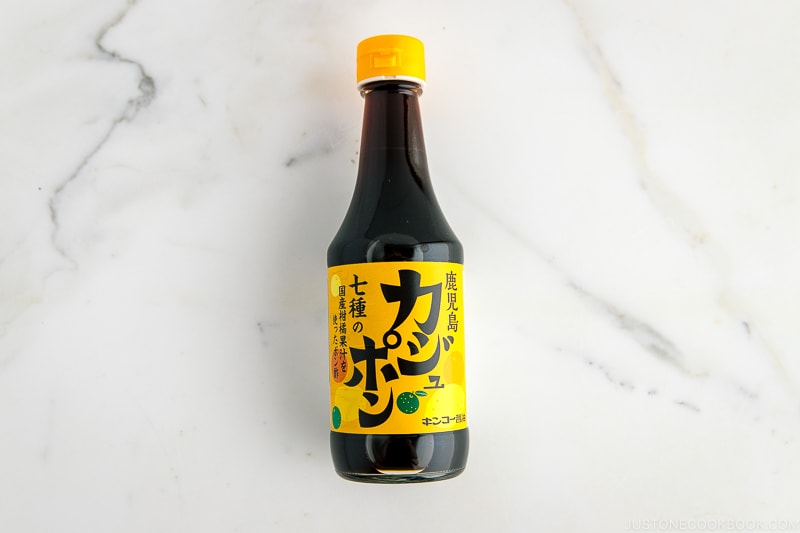 In Japan, you can find various brands ponzu available at grocery stores. Some ponzu are made of multiple types of unique Japanese citrus, such as yuzu, kabosu, daidai, sudachi, etc. When ponzu is solely or mostly made with yuzu, we call it yuzu pon.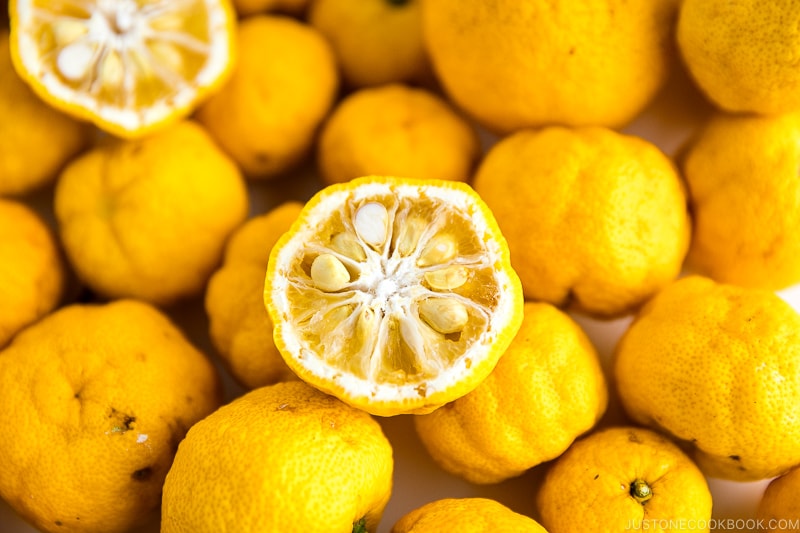 In case you have never seen or tried yuzu before, yuzu (柚子) is a small yellow or green citrus fruit originally from China, but it's mostly used in Japanese and Korean cuisine for centuries. Yuzu's flavor is tart but has an incredibly fragrant aroma. Instead of eating it as a fruit, we normally use the aromatic zest and juice just like how we'd use lemon.
Yuzu has big seeds inside therefore you get a very small amount of juice compared to a lemon. You can purchase yuzu during the winter months at Japanese grocery stores and local farmer's markets.
Last year around this season, another friend of mine gifted me a jar of homemade yuzu ponzu made from her homegrown yuzu and it was so delicious. I knew I had to make this myself and the time has come!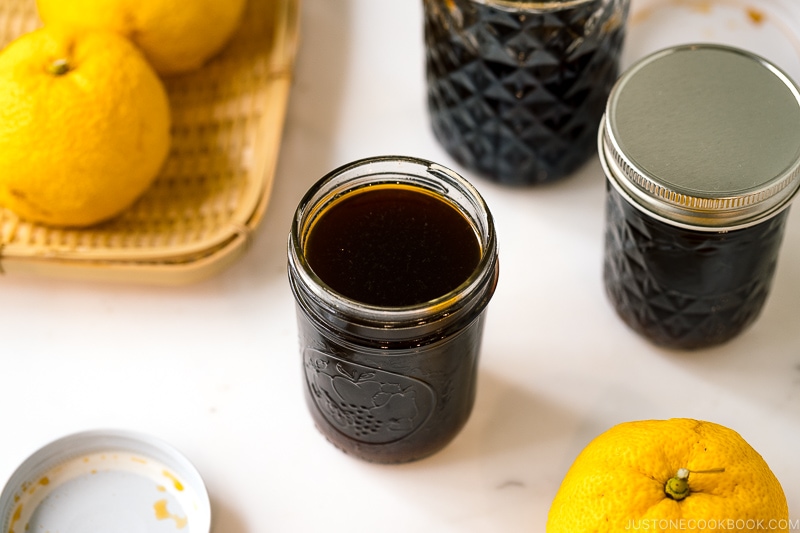 How to Make Yuzu Ponzu
Ingredients You'll Need
All you need is basic Japanese ingredients and yuzu.
Overview: Quick Steps
Put all the ingredients in a sterlized jar and steep it for 24 hours in the refrigerator.
Drain the yuzu ponzu into a fine-mesh sieve over a measuring cup. Discard the katsuobushi and kombu (you can repurpose them to make furikake rice seasoning!). Pour the yuzu ponzu back into the jar.
Store yuzu ponzu in the refrigerator for 6-12 months. The best time to enjoy homemade yuzu ponzu is after 3-4 months.
3 Tips on Making Yuzu Ponzu
Tip #1: Use a sterlized jar and clean utensils
Especially if you plan to make a lot of yuzu ponzu or try to keep it for a long time, please make sure all the utensils and jars are clean. You don't want any mold growth in your precious yuzu ponzu later on!
Tip #2: Use hon mirin or mirin
If possible, I recommend using hon mirin or mirin with a higher alcohol percentage, not the mirin-like condiment that has preservatives or additives. If you're not familiar with types of mirin, read this post.
If you're worried about alcohol in mirin, you can evaporate alcohol by cooking mirin in a pot for just a few minutes. This almost-alcohol-free mirin is called Nikiri Mirin (煮切り味醂). I skip this process, but if you cook for small children and prefer to avoid alcohol, you can definitely cook the mirin first on the stove or microwave.
Tip #3: Wait to enjoy for 3-4 months
Wait? I know, I usually can't wait this long to use my yuzu ponzu, and the longest I could wait was 1 month.
The reason why we wait for 3-4 months is that the flavors will have a chance to meld and round out the sour taste from the yuzu.
One day when I have a lot of yuzu, I'd love to wait and see how the taste of yuzu ponzu will improve over time.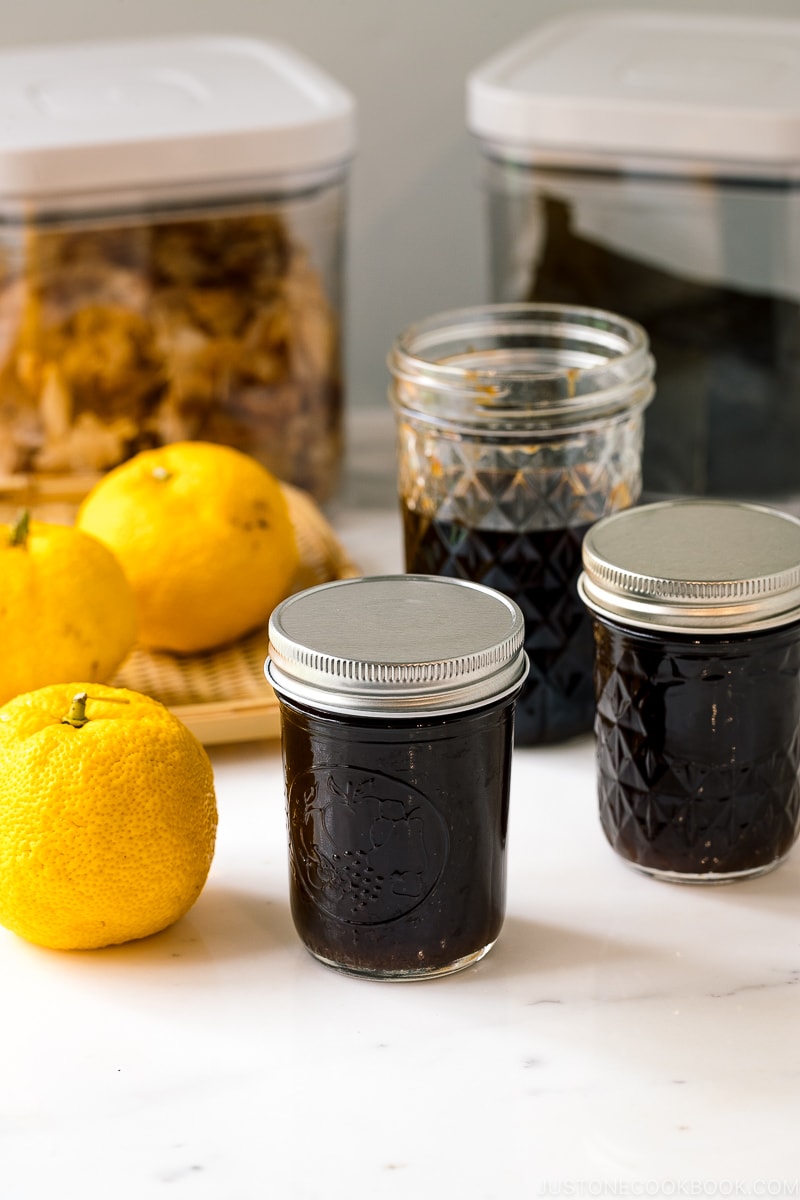 Frequently Asked Questions about Yuzu Ponzu
What is a good substitute if I can't find yuzu?
You can still make ponzu (not "yuzu" ponzu) with any citrus you have. I love how I make my homemade ponzu, using lemon and orange. Here's my regular ponzu recipe.
Can I steep the kombu and katsuobushi for longer time?
Sure! I think you can easily steep it for a week, and I've done it before. However, the kombu gets slimy (perfectly normal) as you leave it for a longer time, so it's up to you. Find a good balance? I usually steep for 24 hours.
Can I make it vegan?
Sure! Just omit katsuobushi (dried bonito flakes) from this recipe and it's vegan! Do not omit kombu though, as it adds umami to yuzu ponzu and you don't want to lose that.
Can I make it gluten-free?
Use gluten-free soy sauce or tamari soy sauce.
How long does it last in the fridge?
As long as you keep it in the refrigerator (and do not change the recipe or ingredient ratio), it can last for 6 months to a year. Do not use any water and make sure the jar is sterilized. The salt in soy sauce will preserve the ingredients well.
Why is my Yuzu Ponzu slimy?
Did you steep your kombu for more than a day? It's most likely due to the kombu and it's perfectly okay and edible. For this reason, I steep my ponzu for 24 hours. Some people leave it for a week or even a month for a stronger dashi flavor.
What to do with all the peels?
You must save the peels and make yuzu zest! We use yuzu zest in Japanese cooking. Please read this post.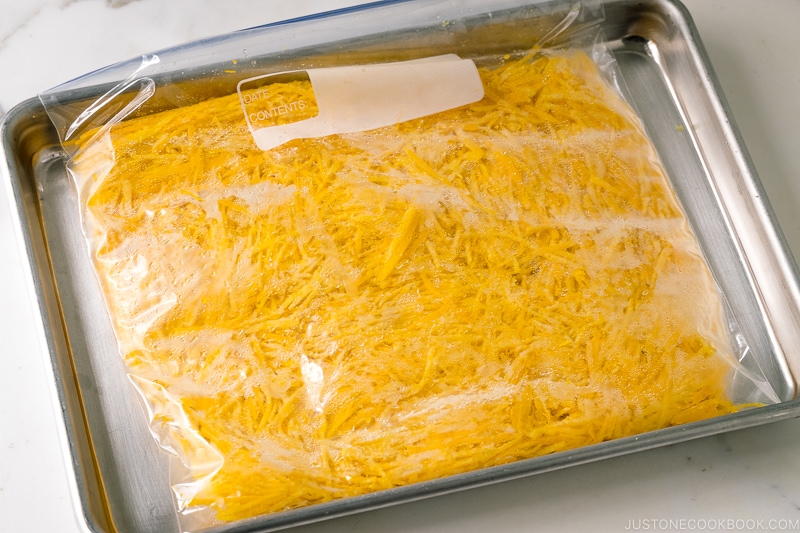 What Goes Well with Yuzu Ponzu
Although ponzu may be used mostly as a dipping sauce, we also use ponzu as a dressing, marinate, or seasoning. It can enliven pretty much any dishes, but the citrusy flavor goes especially well with fatty fish and pork.
You can also use yuzu ponzu for the following dishes.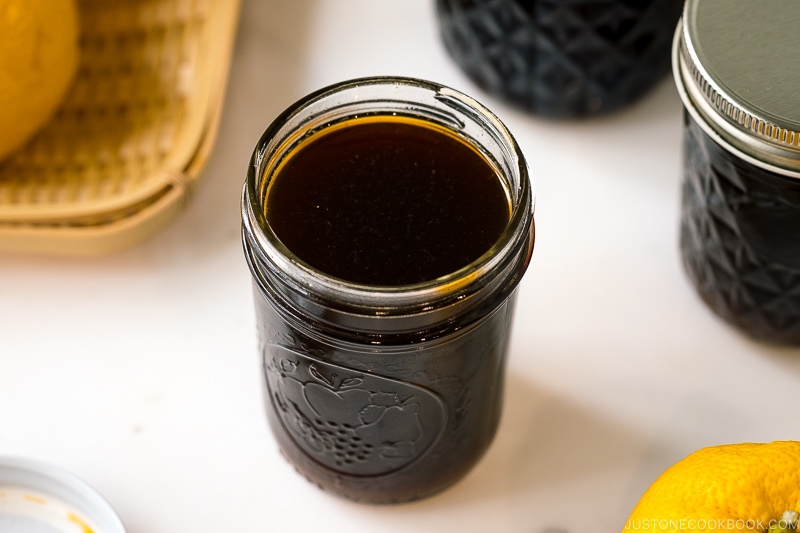 Wish to learn more about Japanese cooking? Sign up for our free newsletter to receive cooking tips & recipe updates! And stay in touch with me on Facebook, Pinterest, YouTube, and Instagram.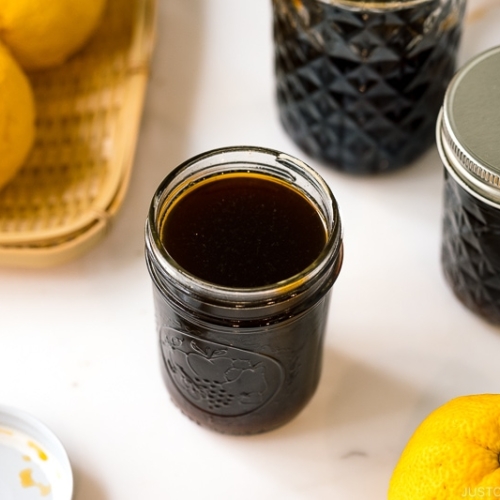 Yuzu Ponzu (Japanese Yuzu-Flavored Dipping Sauce)
What to do with fresh yuzu fruits? Make this delicious Japanese dipping sauce called Yuzu Ponzu (Yuzu Pon)! The homemade version tastes so much better than the store-bought one and it's extremely easy to make a big bulk to enjoy later!
Servings:
1
jar (1 cup, 240 ml)
Japanese Ingredient Substitution:
If you want substitutes for Japanese condiments and ingredients, click
here
.
Instructions
To Enjoy
You can enjoy the yuzu ponzu immediately. However, it's best to wait for a week (or up to 3-4 months!) so that the flavors have a chance to meld and to round out the sour taste from the yuzu.
To Store
Store the yuzu ponzu in the refrigerator and keep it for up to 6-12 months.
©JustOneCookbook.com Content and photographs are copyright protected. Sharing of this recipe is both encouraged and appreciated. Copying and/or pasting full recipes to any website or social media is strictly prohibited. Please view my photo use policy
here
.